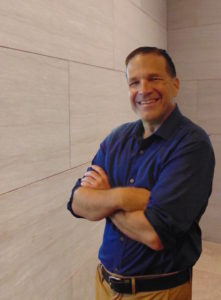 About Richard Sheehe
Richard Sheehe is a PR/marketing strategist and corporate storyteller who has built a reputation for award-winning media training, strategy and writing over a 25+ year career. A former NBC national news correspondent and writer for The New York Times and Associated Press, Richard served as a spokesman and public relations AVP at a major university and strategic communications director for a large, Congressionally-chartered association before becoming a full-time consultant and trainer in 2009.
Richard's specialties include media trainings that leverage evidence-based principles for communications success — rendered in dynamic workshop settings that combine slide presentations, discussion and role-playing scenarios.  Richard also supports thought leadership for clients through extensive writing of executive bylines, blogs, white papers, speeches, press releases and newsletter content on a range of topics including tech and tech policy, big data, retail and marketing, government, public health and healthcare, issues advocacy and more. His ghostwritten work has been accepted for non-paid placement in Wired, Forbes, Fast Company, Re/code, NY Times, Wall Street Journal, Huffington Post, CRM, RetailOnlineIntegration, CMO and other publications. He is also a seasoned media training and crisis communications expert.
Richard is also a Senior Research Fellow at George Mason University's Center for Health and Risk Communication. He has also been a curriculum adviser and instructor for the CDC's Crisis and Emergency Risk Communication (CERC) program since 2003, and he also served as CERC Project Manager at the National Public Health Information Coalition. As an executive at George Washington University, Richard oversaw the media response during GW Medical Center's direct involvement in 9/11, the anthrax attacks and the hospitalizations of U.S. Vice President Dick Cheney and other high profile patients, and he is also a former adjunct professor of Communications at GW.
Richard co-authored an HHS media guide on public health communication and he has contributed to crisis communications curricula and projects at Tulane University, University of Washington, University of New Hampshire, University of Virginia, University of Maryland, Drexel University and other institutions. He has conducted workshops around the country for numerous groups, including the National Institutes of Health, the U.S. Department of Homeland Security, the U.S. Department of Agriculture, the National Transportation Safety Board and the National Foundation for Infectious Diseases. Richard also led a multi-year, NIH-funded Regional Centers of Excellence program of in-person and online media trainings for bioscientists who handle anthrax and other serious pathogens.
Richard began consulting and training full time in 2009 after more than two decades in communications that include national honors for journalism (AP, RTNDA, NAB) and for public affairs (CASE and Mercury Awards). A former national news correspondent at the NBC and CBS radio networks and contributing writer for The New York Times and Associated Press, Richard covered the White House and Congress and traveled on assignment nationally. After leaving journalism in 1998, he served as a spokesperson, assistant vice president and adjunct professor at George Washington University (GW). Richard was also strategic communication director for the Congressionally-chartered National Academy of Public Administration and a media strategist for the National Headquarters of the American Red Cross.
A personal and professional advocate for more than two decades on mental health awareness and stigma prevention, Richard is a strategic adviser to the National Public Health Information Coalition and has collaborated on programs with the American Red Cross for disaster response mental health; HHS on disease stigma; DHS and NTSB on first responder mental health; CDC on addiction stereotypes; and the New York City Department of Mental Health and Hygiene on community outreach and stigma prevention.
Richard received an undergraduate degree in psychology from the State University of New York system and a master's degree in sociology from Boston College. He lives in Fairfax, Virginia.